Dmitry M from Berdichev, Ukraine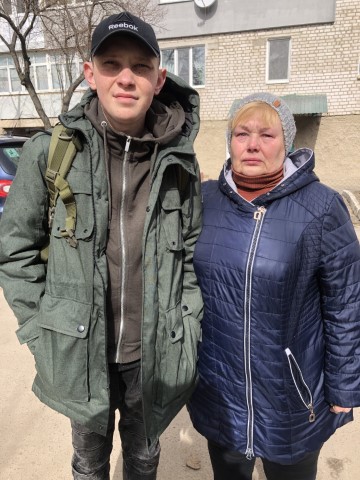 I'm running from the war! I am very afraid of the sound of the sirens and the fact that I have nowhere to hide. There is no bomb shelter nearby. I want to live in safety.

I am Jewish through my father. He died when I was 7 years old and now, I'm 18. In 2014 when he died, the war began in eastern Ukraine. My mother signed a military contract and went to serve there. It was a way to support the family. I stayed with my grandmother in Berdichev. I will miss my grandmother a lot and I am very worried about my mother.

I have been disabled since childhood. I have diabetes and need to take insulin. In addition, I have a number of chronic diseases and, from time to time, I need to go in to hospital to maintain my health. Mum became a solder to support me. It's not easy for my grandmother because she is worried all the time about my Mum and also takes care of me, but we have got used to such a life in these eight years. Everything was always in order with my mum but now everything has changed a lot!

On 24 February we learned that the war and begun full scale. We have had no contact with my Mum for several weeks. I don't know if she's alive or not. Now, especially in the east, there are terrible battles. There is the constant sounds of sirens in Berdichev. There was also a heavy air attack. I'm very scared.

Even before the war started my mother asked me to leave for Israel but I didn't want to. At her request I went through my consular check and received a visa, but I didn't immediately sign up for a flight. Now, even though I can't contact her, I know that my Mum would want me to leave here as soon as possible. My grandmother also wants me to make aliyah. I'm so sad that I'm the only one who has the right to repatriation – that my grandmother cannot go with me and that my mother stays somewhere here. I have relatives of my father in Israel, and they have promised to help me and take care of me. I want good medical care. I hope my Mum will survive and that some day I can bring her and my grandmother to me.

Ezra helped me with advice and financial support even before the war. They provided financial assistance, thanks to which I got my passport and made the necessary certificates. They also brought me to the border so that I could cross it and fly from Moldova to Israel.

Thank you so much for all the help. My family simply couldn't help me with my aliyah process and you supported us so much. Thank you from the bottom of my heart!