Nina G from Tbilisi
The war pushed me out from my country. This war has changed many things around us and day by day everything around me became worse. In this hard time while there is war around I lost my husband. He had a stroke and nothing could help him stay alive. As I became alone, I felt like completely unprotected and decided to run out from my living place. I loved it much, I have memories of my childhood there, but fear pushed me out. It was difficult to go through Russia to Georgia. I was stopped without any reason, asking for money, mocking and laughing and it was a long way to reach peaceful Tbilisi. I even couldn't collect all the legal papers and was afraid not to receive a positive answer from the Consul. But I was lucky to be allowed entry to Israel.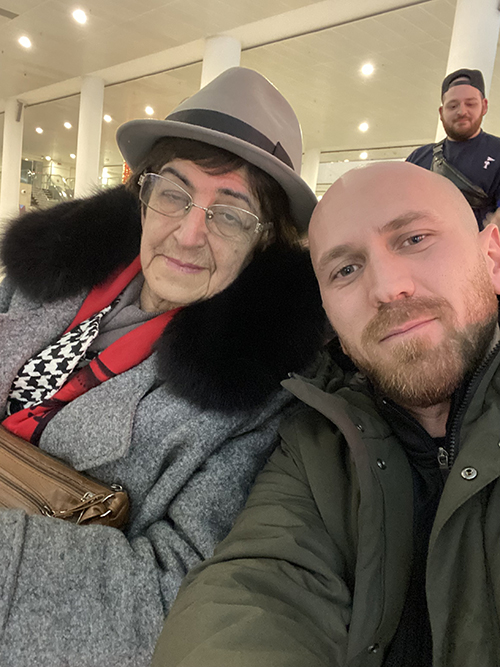 I have relatives there in Israel and I hope life is better there. Maybe I had to make Aliyah in my early years but I hope it's not too late. I hope I can have a little rest in the holy land …

Meeting Ezra was the best moment in this dark time. I was lucky to meet Ezra's representative. I received advice, transport, accommodation, and food also. Dealing with documents is difficult but when there are professionals to help it is much easier. I will never forget the attention I was shown, and I thank God that you are there. It was a miracle for me that God answered my need in one day…I asked the representative to remember my need and pray at evening prayer to receive an answer from Israel on time…but he said we could pray in that moment and with a short prayer we prayed together. That was a miracle, the positive answer came on the morning of the next day, and I could get my ticket for the flight.

I will never forget this help – from the beginning of the process to the check-in at the airport. A special thanks to everyone who supports us. Thank you from the bottom of my heart to every sponsor who gave money for the care of poor people. God bless you!